Way back in 2005, the International Olympic Committee chose London to be the host of the 2012 Olympics. British taxpayers rolled their eyes, the French sulked (boy, do us Brits love annoying the French) and I got all giddy with excitement. At the time, I had just turned 14 and was involved in just about every possible activity you could think of: ballet, gymnastics, Taekwondo, horse riding, writing (I was an obnoxious teenager, unfortunately). I adore sports of all kinds, and when the Olympics roll around I become almost unbearable to live with, constantly updating people on the medal table and British medal tally. Filled with ridiculous enthusiasm (as a Londoner and not yet being a taxpayer) I started to begin my little quest to fully enjoy the London Olympics.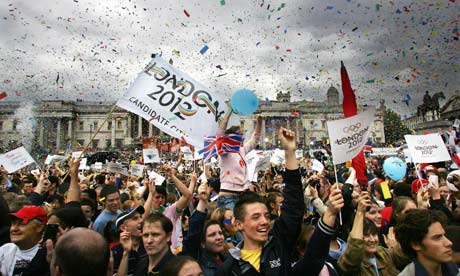 Just 24 hours later, London was plunged into a deep sadness. 7/7 (I hate that term) rocked not just London but the entire UK. A few extremists decided to rip through the heart of my beautiful city and destroyed 52 brilliant lives. It was the first time in my short life that I had experienced widespread elation and devastation within such a short time frame. Truthfully, the wounds have never really healed, and I reckon it would be damn near impossible for you to find a Londoner who doesn't know exactly what they were doing when the news of the attacks broke. (I was at home, suffering from tonsillitis for the sixth time that year, sketching the illustrations for an essay I had written, and heard the sirens whizzing past my mother's house)
Victim's Tribute Wall - BBC Website
Memorial at Hyde Park
Due to the close proximity of the two events, it seemed both fitting and essential for Danny Boyle to interpolate the events of July 7th into his wonderful opening ceremony for the Olympics. It was a beautiful moments. For reasons that are not entirely clear, US audiences were not treated to the wonder of the tribute due to the American broadcaster choosing instead to air an interview with Michael Phelps. (I won't reveal exactly what I think of this decision as I don't go into politics. I love me some politics, but learnt very early on not to discuss these views with strangers. People get all types of angsty when the P word is mentioned!)
People rolled their eyes (hard) when London was announced as the host city. It's too cold, rainy, and damn right miserable over here to host such a magnificent event. Boy am I glad we've proven the world wrong. For the first time in my life, I've noticed a distinct sense of solidarity amongst us Brits. Even Andy Murray sang the national anthem when he won his gold medal! Public transport is running like a dream (as a Londoner born and bred, this was an incredible shock to the system. I actually got a seat on a train at Bank. At Bank!!) Olympic fever has well and truly gripped the nation.
I missed out in the ticket ballot and lacked the funds to purchase last minute tickets released over the past few weeks, but I've still done my best to soak up the atmosphere. Watching as many sports as possible on television, spending a day hanging around by the Excel (where I met some wonderful South African tourists. Seriously, they rocked!) and teaching the boyfriend the national anthem (which I have sung at the top of my lungs more times than I care to count over the past fortnight).
I will be incredibly sad when the Olympics leave London. It's brought us Londoners closer together, it's been an incredible advert for the UK, and we've introduced the world to Boris Johnson. You totally can't have him by the way, he's ours and we love him. I truly hope the Inspire a Generation tagline comes to fruition; it would be a delight to watch today's young kids grow up into tomorrow's brilliant athletes. And I would just like to extend a thank you to the wonderful Games Makers, tourists, and journalists who have made my beautiful city a pleasure to be in over the past few weeks. If I could hug each and every one of you, I would. Thank you!
A wonderfully British Games Maker
Boris on a zip wire. You're welcome.